The Partly Dave Show FAQ
WHAT sort of thing is it?
A cabaret variety show mixing live music & spoken word performances, hosted by Dave Awl.
Who is this Dave Awl character, anyway?
Is there a CO-HOST?
Why, yes! Dave would be lost in space without the sensational Christopher Piatt (a.k.a. the First Mate and Science Officer of The Partly Dave Show), who is Dave's primary co-conspirator. And joining Dave and Christopher as of 2007 is our newly minted co-co-host, Diana Slickman!
WHEN does it occur?
The show is currently being scheduled on a sporadic basis ... watch this space and the Dave Awl News mailing list for show announcements.
WHERE can it be found, in a geographical sense?
The show has previously been performed at The No Exit Café in Rogers Park, and at The Neo-Futurarium in Andersonville. It may be visiting some new locations in the future ... stay tuned.
HOW MUCH is it?
The suggested donation varies depending on the event, but is usually less than a movie with popcorn and generally accompanied by our "or pay what you can" clause.
(That means you don't have to stay home because you're broke again, girlfriend.)
What other FUN FACTS can you share?

The Partly Dave Show is always smoke-free!

The Partly Dave Show is always "Pay what you can!"

The Partly Dave show is never forced to land on water!

The Partly Dave show is rarely attacked by flying weasels!
---
Find out about upcoming Partly Dave Shows by email!
Join Dave's mailing list just by typing your name in the box below and clicking the button.
---
Email Dave at:
dave@ocelotfactory.com
Not your everyday horse-frightening cabaret excursion.
More fun than a Winnebago full of lemurs.
Guaranteed not to stain or wrinkle.
---
Wednesday, May 2, 2007:
THE PARTLY DAVE SHOW:
Party Mix Edition!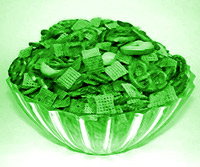 Hosted by Dave Awl
with co-hosts
Christopher Piatt
and Diana Slickman
Plus performances by
Jonathan Messinger,
Rachel Claff,
and Kurt Heintz
And live music by
Even in Blackouts
Wed. May 2, 2007 at 7:30 pm
at The Neo-Futurarium
5153 N. Ashland (at Foster)
$12 or pay what you can
This edition of the show featured a mix of favorite performers from past editions of The Partly Dave Show, and was recorded live for use in the forthcoming podcast version of the show, which is currently in development.
---
Past Editions
Curious about what topics and performers have been featured in previous editions of The Partly Dave Show? Visit the archive of old shows.
---
---
Credits: Logo design by the inimitable Danielle Christoffel.