Those dreams that never die—
you live on them and so do I.
--Anubis, in The Second Mrs Kong, Act I Scene 1
---
THE SECOND MRS KONG (1994)
An Original Opera
Libretto by Russell Hoban
Set to Music by Sir Harrison Birtwistle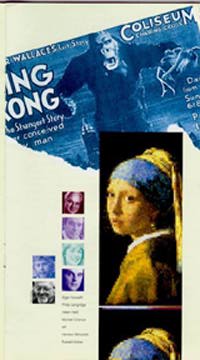 The artwork for Second Mrs Kong from the
Glyndebourne Touring Opera's 1994 program
PRODUCTIONS:
World Premiere—Glyndebourne Touring Opera, 1994 Season. Commissioned by Glyndebourne. Sung in English. Duration: two and a quarter hours including one interval. Performances in Glyndebourne, Oxford, Norwich, Plymouth, Woking, and Manchester.
PUBLICATION:
The libretto to The Second Mrs Kong was published in 1994 by Universal Edition (London) Limited, London. ISBN # 0 900938 75 7. Universal Edition's number: UE 26935L.
DESCRIPTION:
I wasn't so lucky as to actually see the Glyndebourne Opera's 1994 production, and I haven't even heard Sir Harrison Birtwistle's score. But I do have a copy of the Universal Edition libretto, and I can tell you that the text alone makes for a thoroughly enjoyable read. Those familiar with Mr. Hoban's books (especially The Moment Under The Moment) will recognize the cast of characters and themes that turn up here, in fresh and provocative new combinations: Kong, Vermeer and Pearl, Orpheus and Eurydice, the reality underneath the reality.

A brief synopsis: Act One begins on an island in the world of shadows where the dead live. Anubis the jackal-headed boatman arrives, and the dead emerge from the shadows. They include Eurydice, Orpheus, a former beauty queen named Inanna, her spiritual advisor Swami Zumzum, a film producer named Mr. Dollarama, and Vermeer. Kong, too, is here, trying to "work out what he is." It's the idea of Kong, we discover, who's present: not a dead ape, but a live idea. But an idea can't be killed, so what's he doing in the realm of the dead? The dead replay fragments of their remembered lives, and eventually they decide to experience a memory together: Vermeer's first meeting with Pearl, the Vermeer Girl who will pose for his famous painting Girl with a Pearl Earring. (Pearl is a favorite obsession of Mr. Hoban's, and her symbolism is explored with great detail in The Medusa Frequency and Fremder.) During this encounter, Vermeer hands Pearl a mirror, and she has a vision of Kong in the shadows of the future. The idea of Kong hears her voice as well, and begins to yearn for her.

In scene two, an especially striking and witty scene, Pearl manages to hook up with Kong via video link/computer chat. In scene three, the other dead look on and consider their own memories. Kong decides to pursue Pearl in the land of the living: he grabs Orpheus for a pilot and steals Anubis' boat. "Go for it," cry the dead as Act One ends.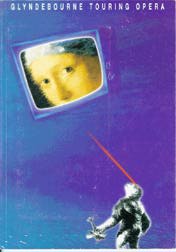 Pearl and Kong meet via videolink: poster art

In Act Two, Orpheus and Kong search for Pearl, pursued by Anubis, Inana, Dollarama, Zumzum, Vermeer and Eurydice in a second boat--because, as Anubis says, "I want to see what happens with him and Pearl." Kong and Orpheus encounter Doubt, Fear, Despair and Terror; there is a struggle and Terror tears off Orpheus' head. In scene two, Kong and the head of Orpheus arrive at the City where Pearl lives, and attempt to get through customs. They are interviewed by a sphinx named Lena. She asks Kong a riddle, and tells him she's been waiting for him, but he spurns her and rushes into the City, still pursued by the others. In scene three, Kong and Orpheus wander into a bad part of town, contact Pearl briefly by phone booth, and then rumble with the Death of Kong, who asserts that the Idea of Kong is that he is, in fact, dead. The other dead arrive and look on as Kong cries "the little puppet died! What I am can never, never die!" He kills the Death of Kong as the dead look on, thrilled. In scene four, Kong arrives at Pearl's penthouse flat in the City. They meet at last. I won't give away the ending, but of course their meeting doesn't go quite as they expect. The opera ends on a poignant note that poetically ties up its themes of desire and pursuit, love and loss.
---
NOTES:
The text to The Second Mrs. Kong is dedicated "to the memory of A. T. Hoban," Mr. Hoban's father.

From Mr. Hoban's introduction to the text:

I have looked at many reproductions of Girl With a Pearl Earring; several are before me now as I write, and I know that what happens with these is what would happen with the original: no matter how steadily I look at her I cannot see her continuously; she is like music, always partly now and partly remembered. In her look is the terror of Creation, in her eyes a question that can never be answered; on her lips a word never to be spoken. Of course the lost and lonely child that is the idea of Kong will cross the soul's dark sea to find her, and it is in the nature of things that these two predestined lovers can never have each other. But it is the longing for what cannot be that moves the world from night to morning.

The program cover from
Glydebourne Touring Opera's
1994 season
---
OTHER REVIEWS AND ARTICLES
Evelyn C. Leeper's (very brief) review of The Second Mrs. Kong.
---
EXCERPTS:
VERMEER: When shall I see it, this face I've never seen, this face I've never seen?
PEARL: (timidly): Sir? (Vermeer seems not to hear her) Sir? I'm collecting for the church. (Vermeer turns to look at her)
VERMEER: God in heaven!
PEARL: Hallelujah.
VERMEER: (aside): Hers is a face that I've always seen in my mind—a face like music, partly now and partly remembered. A face like music! (to Pearl) Will you sit for me?
THE DEAD: Yes yes! Yes yes! Yes yes! This one!
PEARL: Who are you?
VERMEER: (filling her basket with money) I want to do a painting of you. Will you sit for me? (aside) Naked! Like Venus risen from the waves, a Venus far beyond the dreams of Botticelli!
THE DEAD: Naked naked naked naked! Oh yes! Naked naked naked yes!
PEARL: With all my clothes on, yes?
VERMEER: Of course.
THE DEAD: Oh no no! Oh no! Oh no no no no no no!
VERMEER: What is your name, please?
PEARL: Pearl.
VERMEER: Pearl. Such a simple name.
PEARL: I'm a simple girl.
VERMEER: (holding up a pearl earring): But a pearl.

MR DOLLARAMA: What's up with Kong?
ANUBIS: He's been here since 1933 and he's still trying to work out what he is.
SWAMI ZUMZUM: The answer to this question is that we are that which asks this question. A stitch in time saves nine.
MR DOLLARAMA: The trouble with Kong is that he's not actually an ape.
ANUBIS: The trouble with Kong is that he's not actually dead.
SWAMI ZUMZUM: Death and life, what are they but names for a mystery that has no name! You never miss the water till the well runs dry!
INANNA: In the film it was a puppet that they killed, a puppet only. The real Kong is an idea that will not die, an idea that will never, never die.
MR DOLLARAMA: An idea of what?
ANUBIS: That's what he's trying to work out.
MR DOLLARAMA: But if he's a living idea why is he here among the dead?
ANUBIS: Back in 1933 it wasn't that easy to tell the difference between a live idea and a dead ape.

MIRROR: It is not love that moves the world from night to morning, it is not love that makes the new day dawn.
PEARL: Not love?
MIRROR: No. It is the longing for what cannot be,...
PEARL: The longing for what cannot be?
MIRROR: The longing for what cannot be. The world needs the power of your yearning, the world needs the power of your love that cannot be fulfilled.
---
Back to The Head of Orpheus: a Russell Hoban Reference Page (home page).