I am that astonishment from which you write in those brief moments when you can write.
      —The Head of Orpheus in Russell Hoban's The Medusa Frequency
---
Make sure to visit the Official Russell Hoban website for all the latest news!

---



The Head of Orpheus with his lyre: detail from Odilon Redon's Orpheus (pastel)

Images on this page
animated by the mighty Olaf Schneider.

Last Updated: June 18, 2014




Why soup? Why spectacles? It's


THE HEAD OF ORPHEUS

A Russell Hoban Reference Page

Hello! Welcome to the first comprehensive site devoted to one of the 20th (and early 21st) century's most fascinating and original novelists. This page is a map of the site: below you'll find links to general reference materials, as well as information on Mr. Hoban's many books and projects.

Latest updates: The official Russell Hoban website is now online, at RussellHoban.org. Stop by there for the very latest news! But you can still visit the News page of this site for older news items, including a roundup of news articles, tributes, and remembrances posted in the wake of Russell Hoban's death in December 2011.

Contact: This site generates a lot of mail, and I've given up any hope of ever being able to answer it all in a timely fashion! So I can't guarantee a speedy response, but if that doesn't daunt you, drop me, Dave Awl, a line at dave@ocelotfactory.com.
---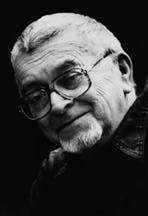 Mr. Hoban
General Reference:
Related Hoban Reference Sites:
---

The Works of Russell Hoban:
(The pages below include synopses, notes, review quotes, excerpts and images relevant to the work in question.)
---
---
COLLECTIONS: STORIES, ESSAYS, POEMS, ETC.
---
BOOKS FOR CHILDREN AND YOUNG ADULTS (Partial List)
Mr. Hoban has been such a prolific author of children's books for so many years that the thought of trying to keep track of them all makes my head swim (much like the head of Orpheus itself). But I've listed some favorites below, and for the completists in the crowd, Mr. Hoban was kind enough to send along A Complete List of Children's Books.

Note: The books listed below are here because they're generally considered children's literature, but don't be fooled. Most of these books contain enough sophisticated wit and thought-provoking ideas to engage the adult reader. Some of them were not written exclusively for children, and contain levels of meaning that perhaps only adults will fully appreciate. Regarding The Mouse and His Child, for example, Mr. Hoban has said that he didn't think of it as a children's book when he wrote it, but merely as his first novel.
---
OTHER PROJECTS: FILM, VIDEO, STAGE, MUSIC, ETC. (Partial List)
---
BOOKS ABOUT MR. HOBAN
See Reviews, Commentary and Criticism.
---
HELP OTHER HOBAN FANS FIND THEIR WAY TO THIS SITE!
If you maintain a Web page yourself, please consider linking to The Head of Orpheus. In exchange, no angry lion will come to your home.
---
CREDITS, CONTACT, DISCLAIMERS, ETC.
This page is maintained by Dave Awl with the kind assistance of The Kraken, The Head of Orpheus, The Gom Yawncher Man, The Red-Bearded Man, The Vermeer Girl, The Yellow Paper, The Glockenspiel, Sister, Frances, C. Serpentina, Bembel Rudzuk, Lorna and of course The Lion.

OFFICIAL HEAD OF ORPHEUS NEXTERS: Chris Bell (Nexter Bellman), Olaf Schneider (Nexter Tailer), and Richard Cooper (Nexter Cooper). My outside eyes, co-conspirators and support team for the site, which benefits greatly from the content and advice they provide.

ACKNOWLEDGEMENTS: Other entities who have contributed to these pages include Dan Ellis for scans & info on books I didn't have, Diana Slickman for discussion, camaraderie & perspicacity, Evelyn C. Leeper for reviews & info, John Pierson for many hours of scanner-slavery, John Cavallino for sine qua non cyber-support, Kurt Heintz for book importation & Web tutorship, Vicky Livoti for Mice on Film, Tim Haillay for providing me with some hard-to-get written and recorded material, and Chris Moon for volunteer mouse-dubbing. Eli Bishop, Alida Allison and other members of The Kraken have given me helpful input as well. Thanks are also due to Edward Myers and The Literary Review, Jim Poyser, and to Mr. Hoban himself for support and encouragement—above and beyond the years of inspiration.

Comments, questions and inquiries may be directed to Dave at dave@ocelotfactory.com. (But be forewarned — due to the tremendous volume of mail, timely responses are no longer guaranteed.)

And you can always drop by Dave's Web treehouse, Ocelot Factory, if you're feeling social.

******

The owner of this site is not responsible for content of any external sites to which it is linked. The presence of external links on this site does not imply endorsement of or by those sites. Any otherwise unattributed writing on this site is by Dave Awl and is © 1998-2013 Dave Awl.