Back to The Head of Orpheus: a Russell Hoban Reference Page (home).
---
Down three thousand fathoms deep,
deaths of millions in her keep;
with her, in eternal sleep,
Sergei Preminin.
--from "K219," The Last of the Wallendas, p. 59
---
The Last of the Wallendas
and Other Poems (1997)
A collection of verse by Russell Hoban
Illustrated by Patrick Benson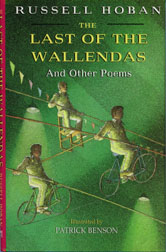 EDITIONS I KNOW OF:
(UK) Hardcover - Hodder Children's Books, London, 80. 1997.
AVAILABILITY
The Last of the Wallendas hasn't been released in the US, but it's still in print in the UK, where you can sometimes find it in stores (I turned up a paperback copy at a London Borders during a recent trip there.) For those not in the UK, you can order it from the Amazon UK website. Sometimes used or imported copies can be found on the Bibliofind site.
DESCRIPTION:
The Last of The Wallendas is a collection of 52 poems, mostly rhymed but including a few unrhymed pieces. Some of them are suitable for the very young, others are better suited to slightly older readers; but all of them can be appreciated by any adult with a secure connection to his or her imagination and sense of whimsy. Established Hoban fans will recognize many familiar themes and symbols popping up in verse form: owls, krakens, three a.m., King Kong and Fay Wray, Vermeer's Girl With a Pearl Earring, Portknockie, Punch, the ghost horse of Ghengis Khan. There are playful poems about imaginary creatures, wistful commentaries on relationships between people, and poetic responses to news items. (Such as the title poem, about the death of the last surviving member of that legendary family of circus performers, the Wallendas). There is even a cycle of five poems about friendly dragons that hide in various places around the house. (They're interspersed throughout the book, but could conceivably stand by themselves as a smaller picture book on a theme.)

Illustration from "K219"

The poem that seems to carry the most emotional force, for adult readers anyway, is "K219," Mr. Hoban's moving, graceful elegy for Russian sailor Sergei Preminin. The poem is prefaced with a chilling account from The Guardian of how Preminin, an apprentice seaman on the Russian nuclear submarine K219, sacrificed his life in 1986 to prevent a nuclear meltdown that would have triggered the submarine's missiles—aimed at Washington, New York and Boston. "K219" is a haunting tribute to a hero, opening with the dramatically-charged lines:
Down three thousand fathoms deep,
deaths of millions in her keep;
with her, in eternal sleep,
Sergei Preminin.

Another of the collection's most moving and gracefully-executed poems is "Ice Bears," a sadly beautiful meditation on the possible extinction of polar bears, that begins:
Huge, silent-moving like
white dreams hungering for
the yester-prey,
what will they do when
the ice is gone?
Mr. Hoban imagines them wandering homeless, or existing only in advertisments for soft drinks, and concludes by asking:
Or will they, knowing how
things end, swim on
and on and on
into the darkness,
when the ice is gone?
King Kong, who first turned up in Mr. Hoban's writing back in Turtle Diary, and has put in appearances in The Moment Under the Moment and The Second Mrs. Kong, turns up here in "Kong," which ends with a pair of lines that do a good job of summing up Mr. Hoban's take on the big gorilla: "Kong's life was an illusion, yet I feel/he was somebody, and his death was real." Kong also turns up in a wry look at how movie monsters have changed, called "Monsters," which offers this pithy analysis of one of Kong's colleagues:
The old-time monsters that I view
are much more cosy than the new:
the creature from the black lagoon,
I won't forget him very soon;
he couldn't seem to get it right
but basically he was polite.
Other standouts would have to include "Rodney," an angry, disturbing response to a news item about the abuse of bears in China, kept in cages and milked for their bile which is sold as a traditional cure. ("A bear lies clamped in a filthy cage,/moaning in pain and crazed with rage;/a tube in its gall bladder drains off bile/and steel straps keep it from moving the while"). "Chopin, Mazurka in A Minor, Opus 67, No. 4" is an elegant tribute to the composer that begins and ends with the lines "Love and death and sweet romance—/come and see the shadows dance!"

"Fred to Samantha" compares would-be lovers to pebbles separated from each other by the sea's tides. The narrator laments: "...though I am short and you are tall/I hoped you would return my call...I hoped, in every wind and weather, the two of us might rub together." After enduring the telephone's marked failure to ring, he concludes: "But no, long silence fills the day/and all my hopes have ebbed away./I think perhaps some colder sea/sorts me from you and you from me.")

All of the poems are enjoyable as flights of fancy, meditations or explorations of more serious themes. Some of them are more successful than others as verse, but the poems that blossom more than make up for the ones that fizzle. In some poems the lines don't seem to scan right, or the rhythms and diction seem a bit labored. Some, on the other hand, achieve a wonderful union of sound and sense, as in these lines from the exquisitely well-turned lyric entitled "Long, Lone,":
Long, long, long and lone
Is the selkie's song when the storm winds moan,
is the sigh of the sea as it rubs the stone,
is the word of the sea that lives in the bone.
...which seems to carry just a whiff of Dylan Thomas about it.

The Last of the Wallendas is most enjoyable when you approach each of its poems separately, rather than trying to consider them as a unit. Like The Moment Under the Moment, Mr. Hoban's collection of stories and essays, Wallendas is a real grab bag—an eclectic mix of subjects, themes and treatments that reflects the idiosyncratic, highly personal set of reference points that give his work its charismatic sense of identity. But Wallendas' most successful pieces stand by themselves, and share that defining characteristic of the very best poems: the more one reads them, the more pleasure they offer, working their magic as they become familiar.
---
REVIEW QUOTES:
"A genuine poet of individual flavor."
—The Guardian

"The collection offers such variety of whimsy (my favorite is "Big Stone Women of Vienna"), pain ("Kong," Rodney's All Right Now"), travels to strange places at the edge of the mind ("Crystal Maze," "The Dream of the Kraken," "Ice Bears"), changes in outlook ("Monsters"), and the like, that the child reader is invited to make emotional shifts readily and emerge with confidence."
—Carey Wall, San Diego State University
---
OTHER REVIEWS AND ARTICLES
Carey Wall's review on the San Diego State University children's literature site.

Evelyn C. Leeper's review of The Last of the Wallendas plus two other Hoban books.
---
EXCERPTS:
Permission is being sought from the publisher to post a couple of short poems from the book here. They'll be here if and when it comes through!
---
Back to The Head of Orpheus: a Russell Hoban Reference Page (home page).
A Complete list of Russell Hoban's books for kids
Russell Hoban's other novels and collections: