Hoban News
Updates on Russell Hoban's Books
& Related Projects
The view from Mr. Hoban's desk ... photo by Dave Awl,
taken during my visit with Russ in June '99.
---
LATEST NEWS:
Updated May 8, 2013:
First of all, let me say that The Head of Orpheus isn't going anywhere — I'll keep this website around for archival purposes, and I might still even update it from time to time.
But for those who don't already know, there is now an official Russell Hoban website, located at www.RussellHoban.org. Please bookmark it, and stop in regularly for all the very latest Russell Hoban news.

RussellHoban.org is being maintained by the excellent Richard Cooper, who previously ran the SA4QE website for many years. The new site was created with input from myself and other members of the Kraken, and with the express permission and blessing of the Hoban estate. Richard is doing his usual amazing job of keeping it all updated in an up-to-the-minute way.
And of course, the official Russell Hoban page on Facebook is still going strong, updated by yours truly, while Richard C is handling the official RussellHoban.org Twitter account. Please like and follow them, respectively, if you haven't already done so!
---
Updated January 25, 2012:
I've got quite a bit of news to report, even though it's only a little more than a month since my previous update. The 2012 edition of the SA4QE (the annual celebration of Russ's birthday) is coming up on February 4, and this year there's a special reader survey you can participate in (but you'll need to hurry). There's news about the upcoming Royal Shakespeare production of The Mouse and His Child, and a roundup of yet more tributes and remembrances of Russ that didn't make it into my previous posting.
But I'll start with the best first: I've got news direct from the good people at Walker Books about Russ's forthcoming books. (That's right: I said books, plural!)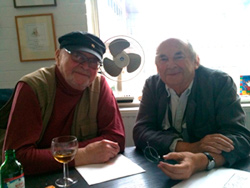 Walker Books tweeted this photo of
Russ and Quentin Blake meeting together
in the summer of 2011
Soonchild Coming Soon, and a Magic Horse for Later:
Earlier this week, I got an email from Maria Tunney — assistant editor at Walker Books, who has been working for the past couple of years on Russ's forthcoming illustrated book Soonchild along with David Lloyd and previous editor Lucy Ingrams.
Maria wanted to pass along the terrific news that following Soonchild (which is due out in March), Walker Books will be publishing a brand-new picture book by Russ this October, entitled Rosie's Magic Horse, and illustrated by Quentin Blake. In her words:
"It's Russell to the core: discarded lollipop sticks, wishing for a better life, dream themselves into a horse named Stickerino!"
At the moment there's a skeletal listing up on Amazon UK with no release date, but a longer description:
This story begins with an ice-lolly stick. Its sweetness gone, it lies discarded and lonely ... until a little girl called Rosie comes along. She places it carefully in her cigar box, full of other sticks. "Without our ice-lollies we are nothing," says an old stick. But new stick wants to BE something and into the minds of all the old sticks, he plants dreams ... maybe they can be something, too. What about Rosie and her dreams that night? She dreams of helping her parents pay the bills. And so, at the stroke of midnight, magic and dreams collide and a HORSE gallops out of the cigar box! His name is Stickerino. "Where to?" he asks Rosie. "Anywhere with treasure!" she answers and hops on its back. Then begins an adventure like no other ... ice-lolly mountains by the sea, caskets of gold, and pirates foiled by a stickling ice-cream van...
Back on the subject of Soonchild: As the release date gets ever nearer, I've also been given permission to share three stunning advance spreads from the book that show how imaginatively Soonchild blends Russ's words with Alexis Deacon's superb artwork — which you can see full size by clicking on the thumbnails below.
Finally, Maria shared a poignant memory of Russ's final days:
We were all very much involved in the book-making process of Soonchild and, from start to finish, we became very used to Russell's phone calls and his visits, where Peroni and a salmon sandwich were always on hand. David was able to deliver a copy of Soonchild to Russell when he was in hospital, a copy we had hand bound by the printer specially; and Russell himself described it as "talismanic."
... so it's nice to know that Russ got to see the finished book.


SA4QE photo by Ra McGuire
Stock Up on Yellow Paper for Hoban Day 2012:
The worldwide celebration of Russell Hoban's birthday and his work, known as the SA4QE, will take place as scheduled on February 4, 2012. Obviously this year's edition will be somewhat bittersweet, in that it'll be the first time the event has taken place that Russ is no longer with us; but on the other hand, there's all the more reason to celebrate his genius and draw attention to his work in the wake of his passing.
You can read the official announcement, with details on how you can participate, on the SA4QE site.
Also, as part of this year's observances, the SA4QE curator Richard Cooper is conducting an official survey of Hoban readers.
The ten-question survey gives you a chance to weigh in on your favorite Russell Hoban books, characters, quotations, and more. Results will be published on the SA4QE site on Feb. 4, 2012 (and linked to here, of course).
But there are only a few days left to participate, because the survey will close on January 28 so that results can be tallied in time for the 2012 SA4QE on February 4. So don't delay — click through to participate!

Mousewarming Party — and Trouble Puppet Triumphant:
This Guardian piece about the Royal Shakespeare Company mentions its upcoming production based on The Mouse and His Child by Russell Hoban, scheduled for next winter.
There's lots more info on the production of The Mouse and His Child here:
And on another theatrical note, congrats to Trouble Puppet Theater, whose production of Riddley Walker made the Austin Chronicle's "Top 10 Arts Events of 2011" list!


Photo by Roland Clare/Richard Cooper
"He Could Turn a Galaxy with the Wink of an Eye" — Remembering Russ, Continued:
For all those of us who couldn't attend Russell Hoban's funeral, but were there in spirit, Richard Cooper has posted a beautiful account of the proceedings on the SA4QE blog, which includes quotations from the service as well as featured music that was chosen by Russ himself.
And here are a few more of the many, many tributes and remembrances that have been posted online following Russ's death:
• Salon.com: "Russell Hoban: The Last Cult Writer" — A terrific piece by Laura Miller, who has a distinguished history of writing great pieces about Russ.
• School Library Journal: "Cult Author Russell Hoban Dies at 86"
• Irish novelist Kevin Holohan: "A Remembrance of Russell Hoban 1925-2011"
• Publisher Philip Turner: "Russell Hoban, Just a Great Writer"
• Jerry Peterson: "God Types 30 at the End of Writer Russell Hoban's Life Story"
• Books for Keeps: Russell Hoban
And finally, a piece from National Times: "A Small Work of Genius" ... which includes this wonderful passage:
Hoban could make a London bus the most darkly mysterious object on the face of the Earth, and compel you to want to ride it. He could turn a galaxy with the wink of an eye. He revealed the magic of life, in all its absurdity, and the absurdity of life, in all its magical, tragical forms. It's no small thing.
---
Updated December 18, 2011: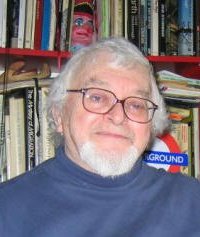 It's taken me several days to get myself to the place where I can write this update, but there's no putting it off any longer. As you may already know, Russell Hoban passed away this past week, on Tuesday, December 13, at the age of 86, after a hospitalization for some heart problems.
I appreciate the patience of those of you who've been waiting for an update here. I've been pretty busy posting news and information to Russ's official Page on Facebook, for one thing, but also — there's a finality to making this posting here that was hard to face. Launching this site in 1998 was the beginning of my personal connection with Russ, and most of the news I've posted here over the years has come directly from him.
In fact, usually after I'd write one of these updates, I'd send it to Russ in case he had any input or additions to make before I posted it. This is the first time there's no Russ to send it to.
Well. I'll start with a roundup of some of the many news articles, remembrances, and postings that followed in the days after Russ's death. And then after that, some news about Russ's forthcoming book Soonchild, which is due out in March 2012, and a few items from earlier this year.
First confirmation of Russ's passing came via a note from his editor, David Lloyd, which was tweeted by the official Twitter account for Walker Books:
RIP Russell Hoban. A note from his editor, David Lloyd, who was with him only last week...

"Dear brilliant Russell. We took it in turns to read to him at the end. His wife read Bassho. His son read Elmore Leonard. I read Robert Louis Stephenson. The world will sound so different without him.

"Thank you Russell.

"Your words have been our delight."
Here's my own posting from Facebook:
Reports are coming in that my literary hero — and friend of the last 13 years — Russell Hoban has passed away. Devastated.

Russ said many times this past year that he was really looking forward to the upcoming release of Soonchild in March, and that he hoped he'd live to see it. I'm sorry he didn't get his wish.

I remember when we first started communicating in 1998, he had so many health problems and he made it sound like he was at death's door ... I was prepared for him to pass away at any moment during the first few years I knew him. But he lived another 13 years and wrote a slew of books during that time. So although I knew he was in the hospital, he's been so resilient that somehow I thought he was going to pull through this time, too.

Well. Goodbye, Russ.

"More and more I find that life is a series of disappearances followed usually but not always by reappearances; you disappear from your morning self and reappear as your afternoon self; you disappear from feeling good and reappear feeling bad. And people, even face to face and clasped in each other's arms, disappear from each other." — Russell Hoban, Fremder
The SA4QE site posted the news under the simple heading "Russell Hoban, 1925-2011."
And then the news links came rolling in:
• The Guardian: "Russell Hoban, cult author, dies aged 86"

• The Telegraph: "Russell Hoban: dedicated to strangeness"
... This is possibly my favorite of the batch, not only because it includes mentions of The Kraken and the SA4QE, but also because it contains this wonderful line: "Hoban was one of those very rare writers whose work leaves a sort of metaphysical smudge on the reader's consciousness, a thin overlay of inescapable strangeness through which one will always see the world from then on."

• The New York Times: "Russell Hoban, 'Frances' Author, Dies at 86"

• Associated Press: "Prolific fantasy writer Russell Hoban dies in London; wrote for children, adults" ... this story appeared in the Washington Post, the SF Examiner, and Salon.com among other publications

• The Onion's AV Club: "R.I.P. Russell Hoban, author of Riddley Walker, The Mouse And His Child, and the Frances series" ... another very strong piece, that includes a kind mention of this very website

• And another piece in the Guardian, by John Clute, this one labeled "Russell Hoban obituary"

• BBC News: "Author Russell Hoban dies aged 86"

• New York Review Books: "Russell Hoban, 1925-2011"

• Journal Sentinel: "R.I.P. Russell Hoban, thanks for 'Riddley Walker'"

• Hindustan Times: "Master of maverick Russell Hoban dies at 86"
[Update 12/19: Here are a couple more ... ]
• Washington Post: "Russell Hoban, author of 'Riddley Walker,' dies at 86"

• io9: "R.I.P. Russell Hoban, Author of Over 50 Magical Children's Books, Plus a Post-Apocalyptic Classic"
There were also pieces in the Independent and the Times. The Times pieces is behind a paywall and the Independent piece is not available online to my knowledge. [Update 12/19: Here's the Independent: "Russell Hoban: Writer best known for his post-apocalyptic novel 'Riddley Walker'"]
And then there were some more personal tributes and remembrances:
• Will Self in the Guardian: "My hero: Russell Hoban"

• Chitra Ramaswamy in The Scotsman:
"In memory of my friend, Russell Hoban"

• Chris Bell at WordsSHIFTminds: "RIP Russell Hoban, 1925-2011"

• I should also note that earlier this year, Chris posted a wonderful retrospective of Russ's early career as an illustrator

• Musician Billy Bragg posted this message on his own official Facebook Page:

Sorry to hear of the passing of Russell Hoban, author of the incredible post-apocalyptic novel 'Riddley Walker', one of those books that I was given by a friend — thanks, Mick Thomas of WPA — and over the years have found myself pressing it into the hands of others. If you've not read it, get yourself a copy over the holidays, and, if you can find one, sit down by a roaring fire and read it by candle light.

• Animator David Anderson, who collaborated with Russ on the short films Deadsy and Door, posted this message on Russ's Facebook Page:

I did 2 short films with Russell in the early 90's 'Deadsy' and 'Door', I am forever grateful I had the chance run alongside the 'word-monger' of brilliance and deep mystery for a short while. Even though you didn't believe in it — 'bon voyage' my friend.

• [Update 12/19] Michael Sporn, the animator behind the 1983 animated version of Russ's book The Marzipan Pig, writes a wonderful post with memories of Russ and how their collaboration came about: "Russell Hoban 1925-2011"
— Also note that The Marzipan Pig will be aired on HBO Family on Tuesday, December 27th. See the link for more details. The Marzipan Pig is also available on a DVD that was released in 2008 (coded for the US and Canada, so you'll need to be able to play Region 1 discs).

[Update 12/19] And a few more blog posts:

• Nina Allen: "Russell Hoban R.I.P." ... it's nice change of pace to read a piece by someone who really appreciates Russ's later novels. Nina says the first Hoban novel she read was The Bat Tattoo!

• Nancy Friedman: "Russell Hoban, 1925-2011"

• Bob Hicks at Art Scatter: "Riddley's last trek: Russell Hoban, 86"

There were also tweets from ...

• Neil Gaiman:

Just saw from @GuardianBooks that Russell Hoban is dead. So sad. He was a wonder. I'll reread Riddley Walker & miss him

• ... Musician Lisa Loeb:

Russell Hoban, Father of `Frances': nyti.ms/sBLX7Q RIP, one of my favorite children's' authors passed away this week.

• ... and comedian Dan Telfer (a personal friend of mine but also quite a rising star in the standup comedy world these days), who tweeted an exhortation and a recommendation:

You know Russell Hoban. He was responsible for the Frances badger books and Emmet Otter's jugband Christmas. Go FIND his adult fiction.

Read Kleinzeit, then maybe The Medusa Frequency. But you have to EARN Riddley Walker. Farewell, Russell Hoban.
And there have been many, many heartfelt postings from Hoban fans on the Wall of his Facebook Page, as well as on the Kraken's Yahoo Group.
Additionally, the SA4QE site has opened a "book of condolence" thread where you can post messages.
One of Russ's most-quoted quips was this remark (as quoted in this 2002 interview from the Guardian):
I think death will be a good career move for me," he laughs. "People will say, 'yes, Hoban, he seems an interesting writer, let's look at him again'."
My last wish for Russ is that I hope that comes true for him. He's certainly earned it. I'll close this section with the line that has always been the epigraph for this site, from the very beginning:
"I am that astonishment from which you write in those brief moments when you can write." — The Head of Orpheus in The Medusa Frequency by Russell Hoban
... Thanks for all the astonishment, Russ.
******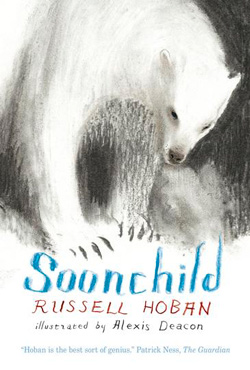 If death does prove to be a good career move for Russ, it would seem that his forthcoming book Soonchild may be well placed to take advantage of it. In his own words, "I think this one might do something."
In fact, the advance buzz about Soonchild was terrific even before Russ passed away. I haven't had the good fortune to read it myself yet, but I've heard from a number of people who have, and the reviews are uniformly fantastic. There's been a palpable excitement coming from his publisher, Walker Books, and it's not hard to see why when you get a peek at it.
• Here's a spread from Design Week magazine with a few of Alexis Deacon's breathtaking illustrations, and a little synopsis of the story.

• And here's a Soonchild listing page with lots of info from the Walker Books site.
As noted earlier, Russ himself was pretty excited about this one, and had said many times over the past couple of years, both in interviews and to me personally, that he was hoping he'd live long enough to see its publication. Sadly, it didn't work out that way, but I'm glad that he knew he had one last great gift for the world up his sleeve.
As for me, I'm counting the days until Soonchild makes it into the world at long last.
A few other items from earlier this year:
• In September of 2011, the award-winning Trouble Puppet theater company in Austin, Texas staged a sold-out and critically praised puppet-based version of Riddley Walker — a new adaptation that was created with Russ's blessing and input.

You can see the poster over there at right.

And you can take a look at some truly fantastic photos from the production by visiting this album on Facebook (may require login) and this photostream on Flickr.

• In May, Russ waxed eloquent about his love of HP Lovecraft in a feature from The Guardian. Quote: "The main thing about HP Lovecraft is his too-muchness; he never uses three adjectives when five will do, but he writes words that haunt the memory ... "

• Also in May, another Guardian piece took notice of how the SA4QE (the annual quotation event celebrating Russell Hoban's birthday) had inspired fans of Thomas Pynchon to create an event called Pynchon in Public Day.

• In April, Author Robert Irwin chose Russell Hoban's novel Pilgermann as one of his top 10 quest-themed books in yet another Guardian piece.

• Back in February, the SA4QE site posted a full account of Russ's appearance at the British Library, including a hilarious transcript of the Q&A session and a YouTube video of Will Self reading from Riddley Walker.

• Also from February, a lovely account with photos of what proved to be Russ's final birthday bottle delivery from the Kraken.
And there you have it. Nothing much left to say at this point but:
The fires col
My storys tol
... By the way, you can follow me on Twitter at @DaveAwl.
---
Updated December 9, 2010:
There's a whole lot of Russell Hoban activity going on right now, so I figured I should add at least a brief update to this page summarizing some of the major Hobanical developments of 2010.
But I should also say this: In the age of social media, this particular news page is no longer the best source for up-to-the-minute Russell Hoban news, to put it mildly. If you want all the breaking news as it breaks, you should follow the official Russell Hoban page on Facebook, check the SA4QE blog (Richard Cooper does a great job of flagging out the latest news in the left-hand column), and maybe even consider joining the Russell Hoban fanatics on the Kraken's Yahoo Group if you haven't already.
It also might not hurt to follow a few of the Kraken-related accounts on Twitter, including the SA4QE, Richard Cooper, and yours truly.
On to the big news ...
Finding Angelica:
Russ's newest novel, Angelica Lost and Found, was released in November. Those of you in the UK can find it in bookshops. The rest of us geographically challenged Hobanites can order it online, either direct from Bloomsbury's web site, or via Amazon UK.
Meanwhile, the book is racking up rave reviews everywhere, including:
There are also a couple of very enjoyable interviews with Russ:
A lengthy profile in The Scotsman (disguised as a book review, but much more than that)
A short Q&A from Financial Times.
Hoban Comes Alive: Russ has also thrilled and delighted his fans by making some rare live appearances this fall — with one more on the horizon for February 2011.
On October 16, Russ appeared at the Serpentine Gallery in London as part of its Map Marathon event. Following a reading by actress Eleanor Bron from Russ's novel The Lion of Boaz-Jachin and Jachin-Boaz, Russ took part in an onstage conversation with Hans Ulrich Obrist, the gallery's curator. The SA4QE site has a full report on the event, complete with photos.
On November 22, Russ appeared at the Guardian Book Club to discuss Riddley Walker with John Mullan. The SA4QE site has a nice writeup and some photos of that appearance, too. You can listen to a podcast of the appearance on the Guardian's site. [UPDATE on Feb. 12, 2011: Kraken member Roland Clare, who is a teacher at Bristol Grammar School, took some of his Upper Sixth English students who were studying Riddley Walker to the event. You can hear some of the students discussing the book after the event in this podcast, beginning at around the 21-minute mark.]
And he has another appearance on the horizon: Russ will be appearing at the British Library on February 15, 2011, in conversation with novelist Will Self. They'll be discussing Riddley Walker as part of the the ongoing series One Language, Many Voices. Tickets and more info are available via the British Library's site. (As a heartening side note, the event was originally scheduled for a date earlier in February, but due to "unprecedented demand for tickets," it became necessary for the library to move it to a larger venue. It's full-on Hobanmania out there, people!) [UPDATE on Feb. 12, 2011: This paragraph was updated to remove early, incorrect information that Self's novel The Book of Dave would be discussed as well as Riddley Walker. Also, Russ has informed me that this event has now sold out in advance!]
Riddley Goes Clubbing: Riddley Walker was the Guardian Book Club's featured book for four weeks in November and December (the live appearance mentioned above was part of the series). You can read all four parts of the series on the Guardian site:
How Soon Is Soonchild? Russ's young adult novel Soonchild (which you can read an excerpt from a little further down on this page) is now scheduled for release in 2012. Something to look forward to!
---
Updated December 8, 2009:
This update is a little overdue — okay, more than a month overdue — but hopefully it's worth the wait.
I got a phone call from Russ back in late October with some terrific news: He has no less than two completed books in the publication pipeline — and I've got a short excerpt from one of them to share with you!
First of all, Russ's next novel is called Angelica Lost and Found (no relation to Angelica's Grotto — the name Angelica in the title is just a coincidence) and is scheduled for publication by Bloomsbury sometime in 2010.
The next bit of news is that he's also finished a young adult novel of around 100 pages, called Soonchild, which will be published by Walker Books sometime in 2011.
Soonchild will have "some illustrations" but it won't be a picture book, per se.
Russ also gave me a three-paragraph teaser excerpt from Soonchild, and permission to share it with all of you. It's a beautiful bit of prose that sets a poetic but playful storytelling style for the book. I can't wait to read the rest.
She was called Soonchild because she was still in her mother's belly but everybody thought she'd be out in the world soon. Her mother's name was No Problem and her father was Sixteen-Face John. They lived in the North, and to get into their story you have to go to the North in your mind.

Maybe you think there isn't any North where you are. Maybe it's warm and cosy and outside the window the street is full of cars or maybe there's just emptiness and a train whistle. There aren't any Eskimos or dog sleds, nothing like that. But in your mind there is a North.

There's a North where it's so cold that your nose hairs get stiff and your eyeballs get brittle and your face hurts and your hands will freeze if you leave them uncovered too long. A North where the white wind blows, where the night wind wails with the voices of the cold and lonesome dead. Where the ice bear walks alone and he's never lost. Where the white wolf comes trotting, trotting on the paths of the living, the paths of the dead. Where the snowy owl drifts through the long twilight without a sound. Where the raven speaks his word of black.
... So there you have it. Only about a two-year wait for that one, but we'll have Angelica Lost and Found sometime next year to help occupy the time.
Russ and I also had a nice long rambling chat about books and writing. In news that will surprise no one, Russ is still a huge fan of Joseph Conrad. In fact, Russ just read Nostromo, which he feels is Conrad's best book.
He also highly recommends the work of Dorothy Whipple, whom he notes was a bestselling author in the '50s but isn't as widely read as she deserves these days. Russ likes the painstaking way she builds her stories and her characters. "Every person is real and you remember that person," he says, "and her detail is infallible in its accuracy." He particularly recommends Someone at a Distance (of which he says, "She creates such suspense that you have no rest") as well as They Were Sisters.
---
Updated December 18, 2008: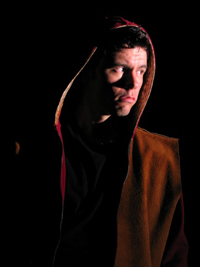 Cormac McDonagh as Riddley Walker
in the Red Kettle Theatre production,
now available on DVD
I've been deeply remiss in not posting this news here earlier, but Red Kettle Theatre Company's highly praised production of the Riddley Walker stage play is now available on DVD.
You can order DVDs directly from Richard Cooper's Thoughtcat Web site using PayPal, for the rather shockingly good price of €15 (fifteen euros) per copy — an especially good value considering that it's a 2 DVD set! And that includes packing and shipping to anywhere in the world.
The background: This is Russ's original stage adaptation of Riddley Walker, which has been produced only a handful of times over the last couple of decades since its world premiere in 1986.
In the fall of 2007, longtime Hoban fan Ben Hennessey, the artistic director of Red Kettle Theatre in Waterford, Ireland, brought the show back to the stage with a bold and imaginative production that took place inside an actual big top circus tent. Several members of the Kraken journeyed to Ireland to see the production, which is an interesting story in its own right.
The entire performance was captured on video by Sam Jacobs of Stickman Productions, and is now available for everyone to enjoy via the magic of DVD and the Internet. Visit Thoughtcat.com's Riddley DVD page for complete info, including links to preview videos.
---
Updated July 15, 2008:

Russ on Facebook
Last Year's Tango and the Next Dance. As most of you reading this probably know by now, Russ's most recent novel, My Tango with Barbara Strozzi, was published by Bloomsbury last fall.
Just to pull a couple of reviews out of the hat, M. John Harrison had this to say in the Guardian: "My Tango With Barbara Strozzi is a haunting: exasperating, funny, sad and elegiac. Catch it before it disappears." And Salley Vickers wrote in the Independent: "This is an eccentric, sharply observed, kind book. We need writers like Hoban."
Meanwhile, Russ sent me a note last week about his current work in progress, which he's calling Volatore & Angelica. Russ says he's finished the first draft and is hoping to have a final draft by the end of the year. (If that happens, publication might be possible by late 2009 or early 2010.) He also mentioned that Eli Bishop (member of The Kraken and maintainer of the Riddley Walker Annotations site) is assisting him with some location research in San Francisco.
The Facebook of Russ. For those of you who hang out on Facebook, good news! There's now an authorized Russell Hoban Page on Facebook, so you can officially "become a fan of" Russ Hoban in that special Facebook news feed kind of way. (Note that you may need to be registered with Facebook before you can actually view the page.)
I've been on Facebook for a few months now, and felt that Russ deserved to be represented among the other writers there — so I asked for and got his blessing to create the official Hoban page.
Of course there's been quite a bit of Hoban fan activity on Facebook prior to this — a number of Krakenites are members there, and there's a Facebook Group for 4Qaters as well as one called Russell Hoban Fans.
Facebook's various tools for recommending books and sharing links give us online Hobanistas a new set of tools for spreading the word about our favorite author in the brave new world of Web 2.0. Now we just have to figure out how to make the place look like yellow paper ...
A Birthday for Orpheus. It boggles my mind, but The Head of Orpheus is now more than a decade old, having celebrated its ten-year anniversary earlier this year. (I mean this Web site, of course — the real Head of Orpheus would be significantly older.)
It was May of 1998 when I launched the first comprehensive reference site dedicated to Russell Hoban, after several weeks of learning HTML and manic coding. Part of the reason I built the site was that in 1998 it was still maddeningly difficult to turn up information about Russ online. Well, what a difference a decade has made! For starters, in those days there was no Wikipedia. Now all you have to do is search up the Russell Hoban Wikipedia entry for an overview of Russ and his work, with separate entries for quite a number of his books.
And of course that was before the Riddley Walker Annotations site existed, or the SA4QE had been invented to spread the word about Russ every February 4th, and even before various weirdos around the globe had banded together to become The Kraken, Russ's international fan club.
Clearly the Internet has made life much easier for Hoban fans.
Meanwhile, this site has been showing its age for a while now — its '98 model framework has been updated sporadically with the Web-coding equivalent of scotch tape and glue over the years, and is in desperate need of a major overhaul. I'm always trying to find the time necessary to give The Head of Orpheus the plastic surgery it needs and deserves, but in the meantime thanks to all of its readers for their patience with its, shall we say ... vintage charm?
Happy Chompo, Orpheus.
---
Updated September 5, 2007:
Autumn 2007 is shaping up to be a great season for Hoban fans, with Russ's next novel My Tango with Barbara Strozzi being released in the UK, his previous novel Linger Awhile just released in the US, and some interesting stage and film productions in the pipeline as well. Keep reading!
Tango Time. Russ's newest novel, My Tango with Barbara Strozzi, is slated for UK release on November 5, 2007 by Bloomsbury Publishing.
While you're crossing days off the calendar, you can pre-order a copy of My Tango with Barbara Strozzi from Amazon UK.
Here's the synopsis Amazon UK gives:
Phil Ockerman falls hard for Bertha Strunk at a tango lesson in a church crypt in Clerkenwell. 'Is Bertha's trunk anything like Pandora's box?' he wonders. Each recently separated, both their Suns are squared by Neptune. Bertha also bears a strong resemblance to the 17th century Venetian singer and composer Barbara Strozzi (with whom Phil happens to be obsessed), to the point where Phil is no longer sure which is which. On their first serious date, Phil and 'Barbara' watch "The Rainmaker", a tale of battered wifery and the murder of an ex-husband. Could it be that Barbara's choice of film is not entirely innocent, especially considering that Phil afterwards finds himself carrying around a potential murder weapon? Navigating several London Underground lines and considerable planetary activity, Russell Hoban's intriguing romance tangos its way through a world of infidelity, artificial eyeballs, baseball bats and music - never missing a daring, seductive step.
Bloomsbury's Web page for the book has a slightly different (earlier?) version of the same synopsis, and if they follow their pattern for previous releases, I'm guessing an excerpt will be available there before too long.
Vampire Cowgirls US Tour. Russ's previous novel, Linger Awhile, was released in the US on August 16 of this year by David R. Godine, the same publishers who last year released two beautiful new editions of Russ's classic Captain Najork books for kids. I've got a short write-up of the US edition with more info (as well as a little historical essay on this Web site and the Kraken online community) on my blog at Ocelopotamus.com. (See this post for details on the original Bloomsbury UK edition of Linger Awhile.)
Here's a handy link to order the US edition of Linger Awhile from Amazon.com.
Stage and Screen. Russ tells me that the Royal Shakespeare Company are working on a new stage adaptation of The Mouse and His Child to be produced in 2008, and also that "a young filmmaker" has an option on Amaryllis Night and Day, and is currently looking for funding to move forward with it.
Meanwhile, filmmaker Jake Wilson, who has worked as an assistant producer for the BBC among other credits, is developing a documentary project about Russ. It's still in the early stages, but the project has Russ's blessing and Jake is filming some interviews with him as a starting point.
Finally, the Red Kettle Theatre Company of Waterford, Ireland will be staging the theatrical version of Riddley Walker this fall, inside an actual "big top" circus tent! The production goes into previews on November 7, 2007, with its official opening on Saturday November 10, and then running through November 17 (no show Sunday the 11th, though). There's a great picture of Russ with Artistic Director Ben Hennessey of Red Kettle on the company's Web site.
Ben is a longtime Hoban fan who has been posting to The Kraken occasionally, and will be bringing a deep familiarity with Riddley to this production — so all indications are that it will be something special. Some members of The Kraken are planning to make the trip to Waterford to catch the production.
---
Updated January 9, 2006: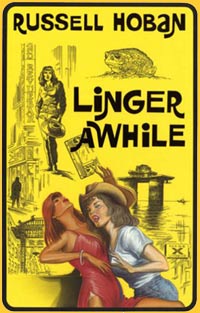 Links for awhile ... Mr. Hoban's newest novel, Linger Awhile, was published on January 2 by Bloomsbury Publishing.
Those of you in the UK can find it in bookshops. The rest of us geographically challenged Hobanites can order it online, either direct from Bloomsbury's Web site, or via Amazon UK.
While you're waiting for the book to arrive, you can whet your appetite by reading an excerpt from the first chapter on the Bloomsbury page for Linger Awhile.
Finally, here are some early reviews (tip of the tentacle to the members of The Kraken for finding these!):
1. "Attack of the Sexy Vampire Toad Girls" — Tim Martin in The Independent.
2. "Delights of a Dirty Old Man" — Patrick Ness in The Guardian (who says "Hoban is the best sort of genius").
Convention wrap-up. As noted previously on the home page, in February 2005 the first-of-its-kind Russell Hoban Convention (organized by members of The Kraken, the worldwide community of Russell Hoban fans) took place in London, timed to coincide with Russ's 80th birthday and the release of his 2005 novel Come Dance with Me. The convention was a smashing success and full of surprises ... visit the official convention Web site for photos and eyewitness reports of the goings-on.
---
Posted November 15, 2004:
Announcing a most unconventional convention. Just in time for Mr. Hoban's 80th birthday, the worldwide community of Russell Hoban fans known as The Kraken are proud to announce the first ever International Russell Hoban Convention, to be held in London over the weekend of February 11-13, 2005.
The head-spinning weekend of activities includes opportunities to:
meet Russell Hoban
meet fellow fans from around the world
watch a traditional Punch & Judy show
visit Canterbury Cathedral and see St Eustace
take a guided tour around Hoban's London
obtain memorabilia and trade collectables
read a favourite Hoban extract at the open-mic
contribute to the convention booklet
and much more.
Visit the official convention Web site for full details including a day-by-day agenda of activities, photos of the locations, directions, and a handy online registration form.
---
Posted August 8, 2003:
Lola gets her green card. Russ's most recent novel, Her Name Was Lola, was released in the US by Arcade Publishing on July 7. It's available through Amazon, of course, and odds are good you can even find it at your neighborhood bookseller. (It's been on the shelves at most of the places I've checked here in Chicago.)
The US edition of Lola is wearing a very sassy, mod-looking cover (at left), and has already earned some rave stateside reviews. I especially enjoyed Michael Dirda's review in the Washington Post. See the Lola page for more.
The Kraken — Talk of the Town! The Kraken celebrated Russ's birthday in February with the event that has become an annual Hoban Day tradition, the mysterious yellow-paper-dropping ritual known as the SA4QE. This year's SA4QE even got noticed by The Independent on Sunday, which ran a nice profile of the event in its Talk of the Town section, under the title "Hoban's Heroes." You can read "Hoban's Heroes" on the Thoughtcat site, where SA4QE Webmaster Richard Cooper has thoughtfully (and catfully) hosted it. Congrats to Richard, who was interviewed for the piece, on a skillful media coup.
C'mon sister, have yourself a ball. The Amazon UK site is currently showing a February 7, 2005 publication date for Russ's next novel, Come Dance With Me, as well as the cover shown at right.
Stone cold Russ Hoban. Meanwhile, back in November, Russ himself had a meditative piece called "Jazz Riffs in Stone" published in The Guardian, a kind of shot on the side to The Bat Tattoo.
Web Walker: Riddleyphiles will want to bookmark a couple of great new Riddley Walker pages that have come to The Head of Orpheus's attention since the last update: Kimberly Patterson's "1st Knowing" page, and Dr. Barbara J. Becker's "Riddley Guide," a companion site for her lecture course "Spinning the Web of Ingenuity: An Introduction to the History of Technology." Both sites have lots of useful info and resources.
Self promo corner: Your Head of Orpheus Webmaster, Dave Awl (that's me), had a short story published in the Summer 2004 issue of Blithe House Quarterly , the preeminent journal of gay and lesbian short fiction. It's a silly, campy little comedy about a man whose shirt is more popular than he is, entitled "Love The Shirt." If you're interested, you can read it online at the Blithe House Quarterly site.
---
Posted November 4, 2003:
Hola Lola! Russ's newest novel, Her Name Was Lola, has arrived, bringing with it a full suitcase of classic Hobanical obsessions, excursions, amplifications, found objects and metafictional by-play. The subjects and souvenirs for this outing include Apasmara (the smelly and rather clingy dwarf-demon of forgetfulness), homecoming queens, Indian ragas, novels within novels (with uncooperative protagonists), Noah's Ark, the I Ching, and all the Kinks, Manilow, Damn Yankees and Marlene Dietrich references you'd expect from reading the title.
It's published by the deeply brilliant Bloomsbury Publishing, of course, and is available in bookstores throughout the UK — but those of us in the US and other places it hasn't been released yet can order it online from Bloomsbury or from Amazon UK, both of whom will ship it anywhere in the world you might happen to be finding yourself at this particular point in time.
Note that Lola, like its predecessor The Bat Tattoo, is released in glorious hardcover, with a lovely purple ribbon bookmark (which even resonates thematically with the story this time around).
This Web site's Lola page is under construction [update: it's here] and an official Head of Orpheus review is on the way, but in the meantime here's the basic info on the book.
Oh, and you can read the first two chapters of the book online at the Bloomsbury site! (Click the Her Name Was Lola link at the top of the Bloomsbury Russell Hoban page.)
Here are the specs:
Her Name Was Lola
Bloomsbury Publishing, November 2003
256 pages
ISBN: 0747570248
£15.99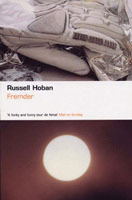 The new Bloomsbury reissue
of Fremder

The new Bloomsbury reissue
of Mr Rinyo-Clacton's Offer
The whole shebang! In October, Bloomsbury also released new trade paperback editions of Fremder and Mr Rinyo-Clacton's Offer . This is noteworthy not only because these two fine novels are back in print, but because it also means that at long last Russ's entire catalog of novels is in print — something I don't think I've had the pleasure of saying since I launched this site in 1998. Hooray again for Bloomsbury.
If you'd like to discuss Her Name Was Lola (or any other Hoban works) with other Hoban fans, head on over to The Kraken (the Russell Hoban online community) where Lola discussion should be starting shortly (you can practically hear the sound of the pages turning now).
The rustling of yellow paper in the wings. Speaking of The Kraken, it's only a matter of weeks before Hoban fans around the world gear up for what has become our annual celebration of Russ's birthday, the cryptically-named and deliciously mysterious yellow-paper-dropping event known as the SA4QE. Drop by Richard Cooper's SA4QE site to learn more about the event, and join The Kraken if you want to be in on the planning for SA4QE 2004.
May we have the next dance? Don't think a man like Mr. Hoban ever rests on his laurels. Russ's next book, entitled Come Dance with Me, is already in the can and on the docket for release by Bloomsbury in spring 2005. [Note: That release date has been corrected since this News update was first posted.]
I'd love to see the ambulances. A while back I got a tip via email that Russ is now an official patron of the Cornwall Bat Hospital, in Cornwall UK (5 Alma Terrace, Penzance, TR182BY). I asked Russ for confirmation and he wrote the following (with permission to post it here):
Yes, I am a patron of the Cornwall Bat Hospital. There was an item in The Times in March about a European free-tailed bat that was blown off course while migrating and crashed in Cornwall. Ginni Little, who owns the hospital, took it in and cared for it and I wrote to her and sent her a cheque. This kind of bat is known as a high flier and is sometimes seen by airline pilots several miles up. One of the chapters in Come Dance with Me features a little meditation on Bat Air. Another bat, Hawaii's hoary bat, the only kind there is in those islands, turns up in a later chapter. I've always been bat-friendly. Animals with special navigational talents get a soul response from me.

One of the nice things about this country is that there are so many people who are dedicated to all kinds of obscure causes for which they mostly don't get any funding. I haven't made a survey but I'm sure there are individuals and groups devoted to all creatures from hedgehogs to stag beetles. A peaceable kingdom largely unknown...
Representational arts. One of the most common questions people email me with (sooner or later I've got to get an FAQ page up!) is wanting to know who Mr. Hoban's agents are and how to get in touch with them. I'm pleased to say that an easy way to answer that question is now available, as David Higham Associates — who do indeed represent Russ — now have a page about him up on their Web site. It includes a bio, agency contact info and the means to make permissions requests.
What's Russian for HOO HOO? Kraken member Valery Votrin is the translator for the Russian editions of Kleinzeit and The Lion of Boaz-Jachin and Jachin Boaz . The preface to his translations is posted at the online magazine Speaking in Tongues, but you'll need Cyrillic character encoding enabled in order to read it (and you'll need to be fluent in Russian, of course). Fellow Kraken member Jonas Söderström kindly provided The Kraken with an on-the-fly English translation of a few sample passages:
Russell Hoban: the translator's view

The American novelist Russell Hoban is something unusual for the US. For starters, in 1969 he moved to London... (...) but this son of emigrants from the Ukrainian village Ostrog was born in 1925 in Landsdale, Pennsylvania...

Hoban's prose is full of mythological allusions, wordplay and black humor — known to critics as "magic surrealism." The best example of this surrealism is the novel which is offered to the reader here: Kleinzeit (1974) (...)

This is the first translation into Russian of a Hoban work.
Miscellanea: If you haven't dropped by Thoughtcat.com, the "Webzinelog" of Hoban fan and Kraken member Richard Cooper, you owe yourself the pleasure. Richard and the Cat offer up thoughtful, funny and trenchant observations on current events, the arts, Leonard Cohen, Adam Ant and the book pile by the bed, a weekly thought and a weekly cat, plus a section of poetry and fiction (including a few pieces by your humble Head of Orpheus Webmaster), letters to the editor, travel notes and more ... and Eli Bishop's Riddley Walker Annotations site is still an industrious and ever-growing affair.
---
Posted December 7, 2002:
Tattoo News: Mr. Hoban's latest novel, The Bat Tattoo, was published in the UK by Bloomsbury Publishing on October 7. It was greeted with huge approval from us Hoban fans and the critics went, well, batty for it (don't hit me). See the rave reviews from The Guardian, The Times, The Times Literary Supplement and The Observer for proof. You can visit this site's new Bat Tattoo page to see the cover, read more about the book (including the official Head of Orpheus review) and find out how to order it online, even if you're outside the UK. (Note that Bloomsbury has issued this one in hardcover, which makes this the first hardcover edition of a new Hoban novel since Mr Rinyo-Clacton.)
Yellow Paper Trail: Regular readers of this update will remember that in February 2002, members of The Kraken (the Russell Hoban online community) celebrated Russ's birthday with a special event called the SA4QE (which stands for Slickman A4 Quotation Event, named for Diana Slickman whose idea it was) in which Hoban fans around the world copied some of their favorite Hoban quotations onto yellow A4 paper (or the closest available stock), and left those quotations in a variety of ingenious locations for members of the unsuspecting public to serendipitously find.
Kraken member Richard Cooper was dubbed Minister of SA4QE documentation, and Richard has created a beautiful SA4QE Web site where you can learn more about the event and how it was executed. There's a page for each Kraken member who participated, revealing which Hoban quotes they chose and exactly where they left their yellow paper. By the way, keep an eye on Richard's site Thoughtcat.com where the SA4QE site is hosted. Richard is in the process of developing Thoughtcat into an online arts magazine, and we have no doubt that it'll be first-rate.
High Profile: The SA4QE was intended to draw attention to Russ's writing, and it certainly seems to have caught the attention of The Guardian's Nicholas Wroe, who used it as the leadoff to a long and wonderfully detailed profile of Russ that ran on November 23.
Attention Shoppers: Several weeks ago, I was contacted by Mark Kelly of Indiana University Press, publishers of the fabulous Russell Hoban Omnibus (a collection that includes four Hoban novels as well as essays and poems). Mark told me that since the Omnibus had been out a while now, IU Press were interested in some promotional efforts and — long story short — IU Press is now offering an amazing deal to Head of Orpheus readers. Are you ready for the details?
Just in time for your holiday shopping, A Russell Hoban Omnibus is available to Head of Orpheus readers at the shockingly discounted price of US $17.95 per copy. $17.95? That's less than half the $39.95 sticker price, and by the time you figure in the free shipping, it's not much more than half of Amazon's discounted rate of $27.97 + shipping.
If that's not enough to make you whistle, that price includes free shipping to ANYWHERE IN THE WORLD (media mail rate for US addresses; regular surface mail rate for international addresses).
HOW TO ORDER (including your special, secret password):
1. Call Indiana University Press at 800-842-6796 to order. (That's a US phone number, of course, so you'll need to do the relevant extra dialing if you're calling from outside the US.)
2. You'll need to call between the hours of 8am-5pm (I believe that's US Eastern Time), Monday through Friday.
3. Once you're got them on the line, mention the special Hobanista password "P2ZW" to confirm the discount rate of $17.95 (including free shipping to anywhere in the world). If you encounter any confusion on the part of the order taker, please ask them to consult Mark Kelly, who will confirm the deal to them.
That's it! And for anyone who needs a refresher course on exactly what's in the Omnibus, see the Omnibus page.
Bloomsbury beat: The Bat Tattoo isn't the only thing that's come flying out of Bloomsbury Publishing's belfry this year. The wonderful folks at Bloomsbury have also brought us beautiful new reissues of The Medusa Frequency (fall '02) as well as Pilgermann and Kleinzeit (spring '02). And as if that's not enough, there's a new Riddley in town: in October Bloomsbury brought out a new 20th anniversary edition of Riddley Walker with a brand new forward by Will Self, no less. Moving forward to next year, Mr. Hoban recently mentioned that both Fremder and Mr Rinyo-Clacton's Offer will be reissued by Bloomsbury in 2003! I'd also like to take this opportunity to mention that somewhere along the way, Bloomsbury added a first-rate Hoban wing to the Bloomsbury Web site. Features include a good-sized bio, a set of very well-written and perceptive intros to each book, and even a Riddley Walker study guide. Plus Susan Osborne's profile, which kindly acknowledges this site and continues the odd tradition of journalists referring to me as "Jim" Awl (as opposed to the similarly monosyllabic "Dave" under which I actually operate). Well, I get called worse things than Jim on a regular basis (maybe I should switch therapists)... Anyhow, I can't figure out how to link directly to these various Hoban features but if you visit the BB site and do a search for "Russell Hoban," all of these treasures will reveal themselves to you.
Not the Lola You're Thinking Of. You Hoban fans are a forward-thinking lot, I know, so you're probably already wondering what's next for Russ. Believe it or not, he's already finished his next book, entitled Her Name Was Lola, and it's due out from Bloomsbury in the fall of 2003. Of course I pumped Russ for a few more details and here's what he said:
It's all in the present tense, short chapters. It's about love, sex, and consequences in that order. The guy's name is Max, the woman's name is Lola, and there's a second woman called Lula Mae. Most of the story takes place in London but a significant part of the action is in the Diamond Heart Centre at Port Malkie on the coast of the Firth of Moray.
...and then a couple days later I got this out of him:
Lola Bessington is beautiful but she is not a showgirl. Her father is Rafael Bessington, Lord of Appeal in Ordinary. Lady Bessington is on the Board of Trustees of the Royal Opera. Lola lives with them in a big house in Belgravia and the Bessingtons also own a villa in Tuscany. Lola's been to Roedean and Cambridge where she took a First in Anthropology. Max's situation, some might say, is not unlike that of a minor league baseball player hoping to get to the big show, the majors.
A Near Thing for Hoban Fans: Alida Allison tipped me off that Random House London have reissued two of my very favorite kids' books by Russ, the Captain Najork books. You can find the Whitbread Award-winning How Tom Beat Captain Najork and His Hired Sportsmen, and the sequel, A Near Thing for Captain Najork, via Amazon UK. Also newly out is a US reissue of The Little Brute Family, published in September by Sunburst.
Everyone's a Critic. Kraken member Yvonne Studer sent me a copy of her impressive (and handsomely published) critical study of Russ, written as a doctoral dissertation at the University of Zurich and published in 2000. Entitled Ideas, Obsessions, Intertexts: A Nonlinear Approach to Russell Hoban's Fiction, it goes for an extravagant 86 Swiss francs, so Yvonne suggests seeking a copy via interlibrary loan... however, she says the book can be ordered from the publisher via their Website (click on "Reihen", then go to to "Schweizer Anglistische Arbeiten", where the book can be ordered) as well as through the snail mail at this address:
A. Francke Verlag Tübingen und Basel
Dischingerweg 5
D-72070 Tübingen
Germany
The publication info is:
Studer, Yvonne:
Ideas, Obsessions, Intertexts: A Nonlinear Approach to Russell Hoban's Fiction
Tübingen; Basel: Francke, 2000.
(Swiss Studies in English; vol. 128)
ISBN 3-7720-2440-8
Miscellanea: Franz Wenzl wrote from Vienna to say that a new German translation of Angelica's Grotto was published in May by the Austrian publisher Ritter Books ... the stage version of Riddley Walker was mounted in Pittsburgh this past spring, at the Pittsburgh Playhouse of Point Park College (where it's raining P's, apparently). Earlier this year Eli Bishop sent me a link to a page about the production, but sadly, that page now seems to have vanished ... speaking of Eli, he continues to build and improve his impressive and ever-growing Riddley Walker Annotations site ... and Kraken member Duane Spurlock turned up a link to some quite eye-catching Kraken stamps.
Self-Promotion Corner: I'll end with a plug for my own new book, mentioned as forthcoming in the last update and now actually available. What the Sea Means: Poems, Stories & Monologues 1987-2002 by me, Dave Awl, was published in September by Hope and Nonthings Publishing. It's a collection of fifteen years of my writing, including a section of performance pieces from my various shows. The book has gotten some very kind reviews from my fellow Hoban fans — in fact, you can see two nice write-ups posted by Kraken members on the Amazon.com page for What the Sea Means. Complete info on the book and various ordering options are available on the What the Sea Means page.
---
Posted March 14, 2002:

The new Bloomsbury reissue
of Kleinzeit
Okay, it's been a shameful six months since I've given you all a news update, and there's lots to report, on both the reissue and new release fronts. The big story, of course, is that Russ's next novel (yup, there's another one) is finished and scheduled for publication this year...
The Bat Tattoo Gets Inked in September 2002!
Russ's latest novel is the one regular readers of this page will recognize as the "labor intensive" project with the working title "Sarah Varley & Roswell Clark." Russ actually finished it this past September, and fie upon working titles — the official and confirmed title of the book is The Bat Tattoo. When Russ told me the title I suggested it might help him hook into the whole Goth/Ann Rice/Buffy crowd...but Russ wrote back to say it was "Nothing gothic — more my usual thing of two people meeting in an odd way in London and a quietly offbeat relation ship developing." The two people in question would be the aforementioned Sarah V. & Roswell C. Russ says the manuscript weighs in at 230 pages. Head of Orpheus regulars will also recall that Russ visited a cathedral in the town of Autun in Burgundy on behalf of one of the book's characters.
So when does The Bat Tattoo hit the shelves? The redoubtable Bloomsbury Publishing has it scheduled for release this coming September. Hey, that's only six months away!
Bloomsbury Beat: Amaryllis and Reissues Galore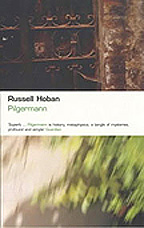 The new Bloomsbury reissue
of Pilgermann
Speaking of the fabulous Bloomsbury Publishing, they continue their world-improving program of serving up the Hoban catalog to the UK (and the rest of the world via mail order). In January Bloomsbury released Amaryllis Night and Day in mass market paperback, as well as lovely new editions of Kleinzeit and Pilgermann (covers are shown). But wait, there's more: in September, along with The Bat Tattoo, Bloomsbury will be re-releasing The Medusa Frequency (which just happens to be The Head of Orpheus's favorite Hoban novel, naturally enough), as well as a "twentieth-anniversary paperback" edition of Riddley Walker. Better start saving your allowance.
Lions and Badgers and Mice, Oh My
I haven't had a chance to properly review Mr. Hoban's latest children's book, Jim's Lion, in this space, so let me just say that it's flat-out wonderful, proving that Russ has definitely not lost his touch with the juice-box set. The story is both charming and thought-provoking, as usual, and Ian Andrews' beautifully-rendered illustrations create the perfect mood. (See the July 19, 2001 update for a look at the art.) This is definitely a favorite among Russ's recent storybooks.
Something new, something old: meanwhile, Russ's classic of The Mouse and His Child. was finally re-released in the US last fall, in a gorgeous new hardcover edition from Arthur A. Levine Books/Scholastic Press. It's wonderful just to have it available stateside again, and that alone would be cause for celebration, but I really can't say enough about how lovely this edition is — definitely one for the collectors out there. The all-new illustrations are by 2000 Caldecott winner David Small (who tells us via the flap copy that Mouse was "one of the reasons I went into children's literature").
If The Head of Orpheus's search engine statistics are any indication, the new edition of Mouse has definitely made a splash: these days "Mouse" and "Child" rank right up there with "Frances" and "Riddley" as the top search terms leading people to the site. A quick check of Amazon.com confirms that Mouse's sales are comparable to Bedtime for Frances, which is not too shabby for a hardcover.
The Kraken Never Sleeps
Meanwhile, the members of The Kraken (the Russell Hoban online community and de facto fan club) have been up to all kinds of mischief. In what has become a four-year-old tradition, we celebrated Russ's birthday on Feb. 4 by sending him the now-customary bottle of Scotch, compliments of The Kraken. (The mighty Chris Bell was our Sultan of Scotch this year and selected a fine 15-year-old Caol Ila on our behalf.)
But this year, we weren't content to just send Russ a card and a birthday bottle ... we wanted to do something that would allow us to unleash our group creativity (after all, we've got nearly a hundred members these days), and also celebrate Hoban Day in a slightly more public way. So we put our reverberant noggins together and somewhere in there the fiendishly clever Diana Slickman hatched an idea for an event that became known as the SA4QE ("Slickman A4 Quotation Event"). In Diana's words:
"I propose that we each, on February 4, write our favorite passage, of any length, from any RH book, on a piece of yellow paper and drop it somewhere public and then walk away, leaving chance to do the rest. I am a vehement hater of litter, so I would recommend leaving it someplace rather than just dropping it on the ground - a seat on the train, a table in the library, in the elevator at work, along with a tip for your waiter ... The paper should at least include the name of the book and Russell's name ... leaving chance to do the rest ... let the mystery of things take it from there, let the paper find its way (or not) to some receptive (or not) person who would then go seek out the book (or not) and become another fan (or not)..."
Well, we loved the idea and the rest is history. Krakenistas from around the world executed the SA4QE in early February, leaving yellow-paper Hoban quotes everywhere from libraries to lunchrooms to frozen food cases at supermarkets. The ever-resourceful Richard Cooper (who delivered last year's Birthday Bottle) was put in charge of documenting the SA4QE for the Web. I'll post a link to the final product when it's available.
But Hoban Day shenanigans are just the beginning. In their spare time, the Krakenites have also begun collaborating on a Web site of annotations to Riddley Walker, under the care of the enterprising Eli Bishop ... and there's talk of a possible Kraken group writing project. If you'd like to get in on the action (or at least eavesdrop on it) visit the Kraken page for directions.
Miscellania
The Guardian went where The Head of Orpheus has gone before, documenting Russ's work space with a story and interview called "The Shaman and His Exobrain" (thanks to Krakenite Bill for the URL)...Pat Hartman wrote to tell me that Positively 4th Street (the group biographical portrait of Dylan, Baez and the Farinas) mentions Mr. Hoban's Time magazine cover portrait of Joan Baez. I asked Russ about it and he's promised to send me a copy to post here for the double pleasure of those of us who happen to be fans of both parties (believe it or not, I've seen Ms. Baez live on five separate occasions). Finally, Davis Oldham of the University of Washington sent along some links to images of St. Eustace on the Web — I've added those links to the Riddley Walker page.
A Little Self Promotion Never Hurt Nobody
I'll close this update with a brief but shameless plug for my own forthcoming tome. This spring Hope and Nonthings Press will be publishing the first book collection of writing by me, Dave Awl. It's called What the Sea Means: Poems, Stories and Monologues 1987-2002. News and info about the book (which will be available through Amazon.com) will be posted on the What the Sea Means page, where you can also sign up for my personal mailing list if you're so inclined. We now return you to your regular programming.
---
---
Back to The Head of Orpheus: a Russell Hoban Reference Page (home page).
Other Russell Hoban reference pages: