"The marvellous energy of Mr. Hoban's writing, simultaneously dry and passionate, justifies everything he does."
--Times Educational Supplement
---
Reviews, Commentary & Criticism
on Russell Hoban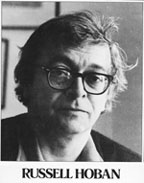 BOOKS ABOUT MR. HOBAN
Russell Hoban/Forty Years: Essays on His Writings for Children. Edited by Alida Allison, with contributions from distinguished scholars from around the world. Published in 2000 by Garland Publishing, 217pp. Includes interview with Mr. Hoban.

Through the Narrow Gate: the Mythological Consciousness of Russell Hoban. By Christine Wilkie. Published in 1989 by Associated University Presses, 135 pp. Includes extensive interview with Mr. Hoban.

History and the Contemporary Novel. By Professor David Cowart, currently Louise Fry Scudder Professor of English at University of South Carolina. Features an excellent chapter on Riddley Walker, pp. 83-105. Published in 1989 by Southern Illinois University Press, Carbondale, IL. By the kind permission of Professor Cowart, the chapter, entitled "The Terror of History," is now available for perusal in The Reading Room!
---
FULL REVIEWS AND ARTICLES
See On-Line Reviews and Articles on the Links page for a full selection.
---
REVIEW QUOTES
On Mr. Hoban's work in general:
"Russell Hoban is our ur-novelist, a maverick voice that is like no other. He can take themes that seem too devastating for contemplation and turn them into allegories in which wry, sad humour is married to quite extraordinary powers of imagery and linguistic fertility that makes each book a linguistic departure." --Sunday Telegraph

"The marvellous energy of Mr. Hoban's writing, simultaneously dry and passionate, justifies everything he does."
--Times Educational Supplement

"Mr. Hoban is unclassifiable, thank goodness. His narrative is so minutely and compellingly realistic that after a time you cease to notice that he has stood reality on its head."
--The Sunday Times (London)

"Russell Hoban is an original, imaginative and inventive. Though some of his work has been compared with that of Tolkien and C.S. Lewis, he is his own man, working his own vein of magical fantasy."
--The (London) Times

"No matter how far Hoban's imagination goes, his books are always convincing, beautifully written and charged with narrative momentum."
--The Observer
---
"A piece of invention as original as any of Tokien's or C. S. Lewis'."
--New Statesman

"One of those absolutely unclassifiable beauties that come along every so often, just as you've about given up hope of ever again finding a new book with a human voice behind it and a way of looking at the world that hasn't been predigested and pre-read...I wish I'd written it. It's one of a kind, and those are the only sort of books that mean anything to me."
--Peter S. Beagle, author of The Last Unicorn

"First novels of outstanding quality are so rare that they call for a certain amount of celebration. One's enjoyment of the novel derives from Mr. Hoban's unusually vivid imagination, his immensely striking use of words to describe the being-with-the-lion feeling in a world where there are no lions. And, finally, most welcome of all, his use of these powerful images in conjunction with a sense of the ridiculous which verges on the total."
--Auberon Waugh, The Spectator
---
"Russell Hoban is as funny and unusual as any writer around, and this second novel confirms it. Its hero, Kleinzeit, is a sort of holy fool, a fierce, lonely intelligence desperately trying to make sense of a hopeless world. A tour de force."
--Evening Standard

"Hoban is an extremely talented novelist, an original mind in an era of mass-produced philosophers. Fortunately, Kleinzeit has sufficient plot to propel the reader through its pages. Otherwise the tempation to read and re-read each page individually would be too great to withstand."
--Irish Times

"Masterly...a mosaic in which each tiny fragment of wit or dirt or profundity has its appointed place."
--The Times Literary Supplement

"Confirms the impression of outstanding talent made by his first novel, The Lion of Boaz-Jachin and Jachin Boaz...brimming with humanity and humour...brilliant handling of language."
--Glasgow Herald

"An original...a delight to read."
--Ion Trewin, The Times
---
"A story about the recovery of life...Like other cult writers--Salinger for instance, or Vonnegut--Hoban writes about ordinary people making life-affirming gestures in a world that threatens to dissolve in madness."
--Newsweek

"Crackles with witty detail, mordant intelligence and self-deprecating irony."
--Time

"This wonderful, life-saving fantasy will place Russell Hoban where he has got to be--among the greatest, timeless novelists."
--The (London) Times
---
"This is what literature is meant to be--exploration without fear."
--Anthony Burgess

"Set in a remote future and composed in an English nobody ever spoke or wrote...lighting by El Greco and jokes by Punch and Judy...and a hero with Huck Finn's heart and charm."
--The New York Times

"Russell Hoban has brought off an extroardinary feat of imagination and of style. Funny, terrible, haunting and unsettling, this book is a masterpiece."
--The Observer

"One of 1981's best novels."
--Newsweek

"An artistic tour-de-force in every possible way."
--New York Review of Books

"Marvelous...Suffused with melancholy and wonder, beautifully written, Riddley Walker is a novel people will be reading for a long, long time."
--The Washington Post Book World
---
"What we have here--pirates, seductive pigs and violent battles to the contrary--is not so much a tale of adventure as a meditationon history, loss and grief, a dark treatise on the mysterious nature of things...a network of small interlocking essays on matters no less significant than mutability and mortality...merely remarkable."
--Joel Cannaroe, front page, The New York Times Book Review

"Pilgermann does live, both as a character in a vivid moment of the historical past and as a living questing spirit. Hoban successfully creates a pilgrim who once traveled and who has not stopped. His novel is not an easy read, only a fascinating and rewarding one."
--Time

"A novel that is both Riddley Walker'scomplement and mirror image....a direct approach to 'the living heart of mystery.'"
--Harper's
---
"This slender book about love, art, loss and delusion, by the author of Riddley Walker and Turtle Diary (both also out of print), deftly combines a stubborn, self-deprecatingly British sense of humor with a mythic undertow of surreptitious power; the first time I read it, I wept through the conclusion without quite understanding why."
--Laura Miller, Salon

"Russell Hoban has proven himself a wordsmith and a punster on a par with Lewis Carroll and James Joyce...His restless, ranging imagination has succeeded in creating a mythic grandeur in the haunting head of Orpheus, and a lyric beauty in the fateful rendition of his tale."
--New York Newsday

"Ingenious...As reflective and paradoxical as a hall of mirrors, no doubt about it. And if you think novels should be about parents and kids and marriage and war and growing up, you'll probably hate it. Which is too bad, because Hoban's Medusa's Frequency doesn't just blip for miserable scribblers. It blips for thee."
--The Village Voice Literary Supplement

"The always adventurous and unpredictable Russell Hoban--whose works range from the gentle Turtle Diary to the post-apocolyptic Riddley Walkernow waxes mytho-comedic...The sublime and the ridiculous meet in a novel that is wise, funny and inspiring."
--The San Francisco Chronicle Book Review

"There's a sense of wonder in these passages...a love of fantasy and myth-making, an interest in language and puns, and a concern with philosophic speculation and the pyrotechnics of storytelling."
--The New York Times

"The Medusa Frequency sparkles with classical allusions and a wisecracking American humour at times suggesting the Marx Brothers."
--The Daily Telegraph

"Short, smart and fizzy, the novel seeks out the roots of creativity with none of the solemnity that phrase implies."
--New Statesman

"Russell Hoban's The Medusa Frequency is the sort of hyper-kinetic feat of the imagination that runs on high octane fuel and thunders acrsoss its surreal landscape at a dangerously high speed...in the course of this tour throughthe imaginative outback of Mr. Hoban's mind, we are treated to brilliant flashes of mordant humour, not to metion splendidly baroque evocations of present day London."
--The Listener
---
"He [Hoban] displays prodigious storytelling skills and an uncanny talent for fleshing out allegories. The result is an urgent, bitterly ironic but at the last, tender evocation of the capacities of the human spirit." --Independent on Sunday

"Shot through with Hoban's trademark luminous prose...a book to read and re-read." --Financial Times

"Unputdownable, moving, ingenious..." --Evening Standard

"Nobody concerned with the future of either mankind or humour could 'nilspond' to this funny and funky tour de force." --Mail on Sunday
---
"The greatest energy in the writing, too, is reserved for the human core of the novel...a stunning feat of compression and, more impressively, at times almost intolerably true."
--John Forsyth, Pure Fiction
---
Back to The Head of Orpheus: a Russell Hoban Reference Page (home page).
Other Russell Hoban reference pages: