What the Sea Means:
About the Book
Excerpts
(Published on Thoughtcat.com)
What They Say
Reviews, etc.
Other places to find it
How to get it online, by mail order and in stores
---
Other Dave Awl links:
---
Email Dave at:
dave@ocelotfactory.com
---
Why not get your silly old Dave Awl news by email?
Join Dave's mailing list just by typing your name in the box below and clicking the button!
What the Sea Means:
Poems, Stories and Monologues 1987-2002
by Dave Awl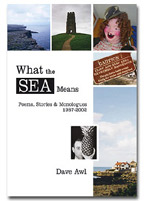 Click the cover above to visit the Amazon.com page where you can see reader reviews and buy the book

Publisher: Hope and Nonthings Publishing
Publication Date: September 21, 2002
ISBN #: 0-9707458-7-7
Cover price: US $12.95 Pages: 192
Buy it from Amazon.com (where you can also peruse a number of cheery reader reviews).
Other places to find it: How to get it online, by mail order and in stores.
Journalist and poet Gregg Shapiro interviewed Dave about the book in September of 2002. Read the interview here.
Some excerpts from the book (three poems and one prose piece) have been published in the poetry and fiction section of Thoughtcat.com.
---
About the Book (from the back cover):
THE FIRST BOOK COLLECTION of work by writer, performer and "surrealist insomniac mystic" Dave Awl takes us on a tour of erotic, metaphysical and deeply strange obsessions — from the nightclubs, diners and laundromats of Chicago and San Francisco to the ancient stone circles of Britain and Ireland. The poems, monologues and stories in What the Sea Means find him discussing xenophobia and millennial anxiety with Cookie Monster; penning elegies and odes to Carl Jung, Zeppo Marx, Laughing Sal and the Buddha; falling in love with a stranger's cologne on a trip to San Francisco; getting crank calls from The Sea after midnight; wandering the city streets at night, scribbling in a notebook; and explicating the animal nature of macaroons, x-rays and isosceles triangles.
The back cover photo for What the Sea Means. Taken by Kurt Heintz in June, 1999 at the Avebury stone circle in Wiltshire, England.
What the Sea Means gathers a decade and a half of Dave Awl's writing. Its contents include a chapbook of new poems; a collection of stories and monologues from The Pansy Kings' Cotillion, Too Much Light Makes the Baby Go Blind, Talking to Myself and other shows; the 1997 online chapbook Night Diaries; and a selection of early poems going back to the late 80s.
---
DAVE AWL is the founder of The Pansy Kings performance group and a ten-year veteran of The Neo-Futurists' fringe theater smash Too Much Light Makes The Baby Go Blind. His writing and distinctive voice have been featured on the NPR programs Anthem and This American Life. He lives in Chicago with his cat and comic foil Dragon Lady. His Web site, Ocelot Factory, is at www.ocelotfactory.com.
---