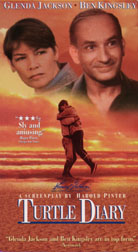 Turtle Diary
A Film Based on
The Novel by Russell Hoban
(1985)
A Samual Goldwyn Company Production of a United British Artists/Britannic production.
Starring Glenda Jackson and Ben Kingsley.
Screenplay by Harold Pinter
Directed by John Irvin
Produced by Richard Johnson
Running time: 96 mins.
Rated PG-13
AVAILABILITY:
It used to be fairly easy to find this film at video stores, but it seems to be getting scarcer. Good news, though: Movies Unlimited has it for sale at a very reasonable US$14.99.
SYNOPSIS: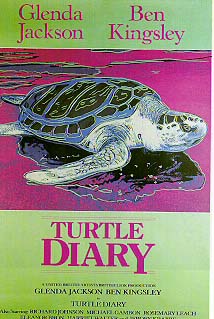 Storywise, the film is fairly faithful to the plot of the novel (see the Turtle Diary novel page). Some minor details are changed (William G. becomes "William Snow" and Neaera H. becomes "Neaera Duncan"), but the basic tale of two lonely, quietly-despairing souls who watch green sea turtles swimming peacefully in a tank, and hatch a scheme to return them to the ocean, survives intact.

What's lost in the transition to film is Mr. Hoban's narrative voice, and the droll, bittersweet reflections of the two main characters, which provide most of the novel's substance. The characters' motivations are mostly internalized; we watch them and infer their inner lives rather than hearing them think aloud. It's a bit like watching a film version of a Milan Kundera novel; you wonder, where did all of those marvelous observations go?

And yet. The story is strong enough to be compelling in its own right, and even without William and Neaera's ponderings, the film is surprisingly beautiful. Harold Pinter's screenplay is graceful and eloquent; Ben Kingsley and Glenda Jackson turn in performances every bit as skillful and affecting as you'd expect.

All in all, while it's no substitute for reading the novel, it is a lovely companion piece and a brilliant bit of filmmaking in its own right.
NOTES:
The turtle image on the film poster, above right, is a screen print by Andy Warhol.

One can't help wondering what screenwriter Harold Pinter made of this passage, on p. 57 of the book: "It was the sort of situation that would be ever so charming and warmly human in a film with Peter Ustinov and Maggie Smith but that sort of film is only charming because they leave out so many details, and real life is all the details they leave out."

(Which, by the way, foreshadows Pilgermann's crucial observation that "a story is what remains when you leave out most of the action.")

Harold Pinter puts in a cameo appearance in the film; he's the man in the bookshop who asks William if there's a sequel to the novel he's holding. Nigel Hawthorne (The Madness of King George) also has a small bit as Neaera's publisher.
---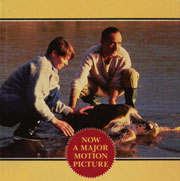 REVIEW QUOTES:
"[Three and a half stars.] Quiet, sly and immensely amusing...filled with wonderful, small sequences...Ben Kingsley's smile, so warm and mysterious, is the sun that shines all through "Turtle Diary." This is not a predictable movie..."
--Roger Ebert, Chicago Sun-Times

"...The chief pleasure of the film lies in the way Harold Pinter's straightforward script and John Irvin's nicely distanced, unemphatic direction avoid all of the obvious sentimental pitfalls. This one earns its charm by rolling back the rhetoric and sticking close to the texture of daily life: the plot payoffs, when they come, seem much more triumphant and honest in this restrained context."
--Dave Kehr, Chicago Reader

"Glenda Jackson and Ben Kingsley are in top form."
--Newsweek

"Deliciously original...witty...decidedly offbeat."
--Leonard Maltin
---
FULL REVIEWS AND ARTICLES
---
Back to The Head of Orpheus: a Russell Hoban Reference Page (home page).
Turtle Diary: the novel (1973)